WHAT TO EAT IN PHNOM PENH
---
LET SOFITEL PHNOM PENH PHOKEETHRA BE YOUR EATING GUIDE!
Where to eat in Phnom Penh can be a daunting decision. As Southeast Asia's oldest cuisine, Cambodian food is similar to the foods of neighboring Vietnam and Thailand, but other culinary influences come from France and China. Khmer cuisine typically consists of three or four dishes that contrast flavors, textures and temperatures using lots of herbs, leaves, dipping sauces, edible flowers and other garnishes. The freshwater rivers and streams flowing through Cambodia make fish the most important protein in Khmer cuisine, and while it's the most common meat in the Cambodian diet, pork and chicken are also popular. Khmer food also tends to contain a large variety of stir-fried vegetables and ample garlic.
Cambodians love to eat and they always know where to eat in Phnom Penh! Cambodians like sweet and spicy dishes, with contrast on their plate. Every dish is an explosion of flavors between sweet and bitter, salty and sour, fresh and cooked, and with each meal comes a sauce
2,000 rice varieties have been developed over the centuries by Cambodian rice farmers. When you settle on where to eat in Phnom Penh you will soon see that, to go with all this rice, Khmer cuisine includes some uniquely Cambodian features. Pungent prahok is a fermented fish paste used to flavor many dishes. Mam refers to fermented fish or shrimp. Kapi is a popular base for sauces and refers to pickled aged ingredients. Both mam and prahok are aged at least 1 year in order to reach its full potential in taste.
Millions of crickets swarm the plains every year and are celebrated in Cambodia as a delicacy. Cambodians deep-fry and season them, believing that eating crickets improves wellbeing and provides long life. Preserved lemons are another unusual ingredient not commonly found in other cuisines, it is used in Khmer dishes to enhance sourness!
Turmeric, galangal, ginger, lemongrass and kaffir lime leaves are essential spices in Khmer cooking. Khmer stews and most Cambodian curries contain these spices, as does Kroeung, a distinctive spice paste that is the foundation of many Cambodian dishes.
Pepper has a long history in Cambodia. The pungent, aromatic variety from Kampot Province, Kampot pepper, is known as the King of Peppers and revered by gourmets worldwide.
Where to eat in Phnom Penh if you have an adventurous palate? Some of the more unusual dishes include frog, turtle, and tarantulas, which are difficult to find in Khmer cuisine abroad but often found in Phnom Penh restaurants.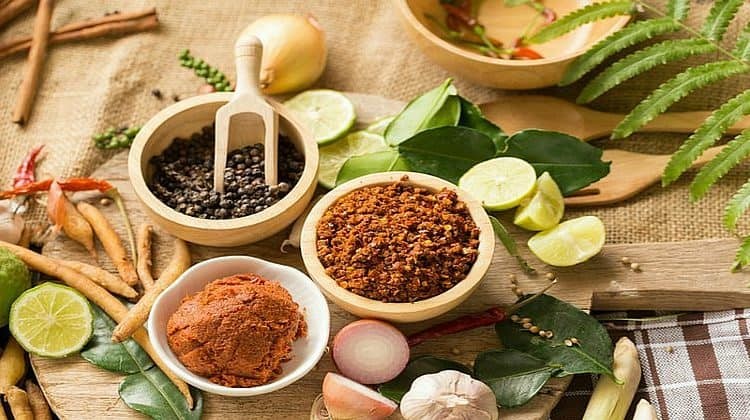 What to eat in Phnom Penh!
Rice is the staple food in Cambodia and part of every meal. For breakfast it's served up as Cambodia's famous rice noodle soup, kuyteav. Lunch and dinner usually includes at least three or four dishes, including a soup, and Prahok. Freshwater fish is often served either dried, processed into prahok, or in its famous Cambodian specialty, amok.
Every Cambodian dish will be either sweet, sour, salty or bitter. Chili (fresh, pickled or dried) is served on the side. In this way, Cambodians ensure that they get a bit of every flavor to satisfy their palates. Black pepper is the preferred choice when heat is wanted in a dish.
Many vegetables are used in Khmer cuisine, and fruits in Cambodia are so popular that they even have their own "royal court".
Pork is quite popular in sweet Khmer sausages. Beef and chicken are stewed, grilled or stir fried. Seafood includes an array of shellfish, and roast duck is popular during festivals.
Many elements of Cambodian food involving noodles are unlike a typical Chinese restaurant in Phnom Penh. In a Cambodian restaurant, the noodles are plated under the stir fried beef and vegetables and topped off with scrambled eggs.
TOP 10 DISHES TO TRY!
1) Amok is Cambodia's signature dish and found in most Cambodian restaurants. Diced freshwater fish is smothered in coconut milk, eggs, fish sauce, palm sugar and Kroeung. It's traditionally steamed in a banana leaf shaped into a bowl, and thus served.
2) Kuyteav — or noodle soup — is made from pork or beef bones and rice vermicelli. The broth is topped with fried shallots and garlic, bean sprouts, green onion and aromatic herbs and served for breakfast. Pork or fish balls are added. Sides include chili paste, half a lime and hoisin sauce.
3) Chicken and banana flower salad is common for lunch. Slices of chicken breast are served with crunchy banana blossom flowers, fried shallots, garlic, chilies and lemongrass, with fresh lime squeezed on top.
4) Beef loc lac is another signature dish, consisting of stir-fried strips of beef served on a bed of lettuce with sliced tomatoes, cucumbers and rings of raw onions. A fried egg is placed on top, with a dipping sauce of lime juice and Kampot pepper.
5) Khmer curry uses more herbs than spices, and are generally mild and sweet.
6) Nom banh chok is a common street food made from thin rice noodles, shredded banana leaves, beansprouts, cucumber, mint and basil, topped with green fish curry.
7) Bai sach chrouk is Cambodia's national breakfast dish, featuring thinly sliced pork marinated in garlic and oil, slowly barbecued and served over rice with sliced cucumbers and pickled vegetables.
8) Prahok is usually added to local dishes, it can be served alongside rice. The crushed, salted and fermented fish paste adds a strong salty flavor.
9) Green mango salad is made with fresh chili, fish sauce, sliced green mango, tomatoes and shallots, pickled cucumber, onion, peppers and fresh basil or mint.
10) Lort cha is a dish of short fat noodles stir-fried with beef, broccoli, beansprouts, herbs fish and soy sauce. A fried egg is placed on top, with an accompaniment of sweet chili sauce.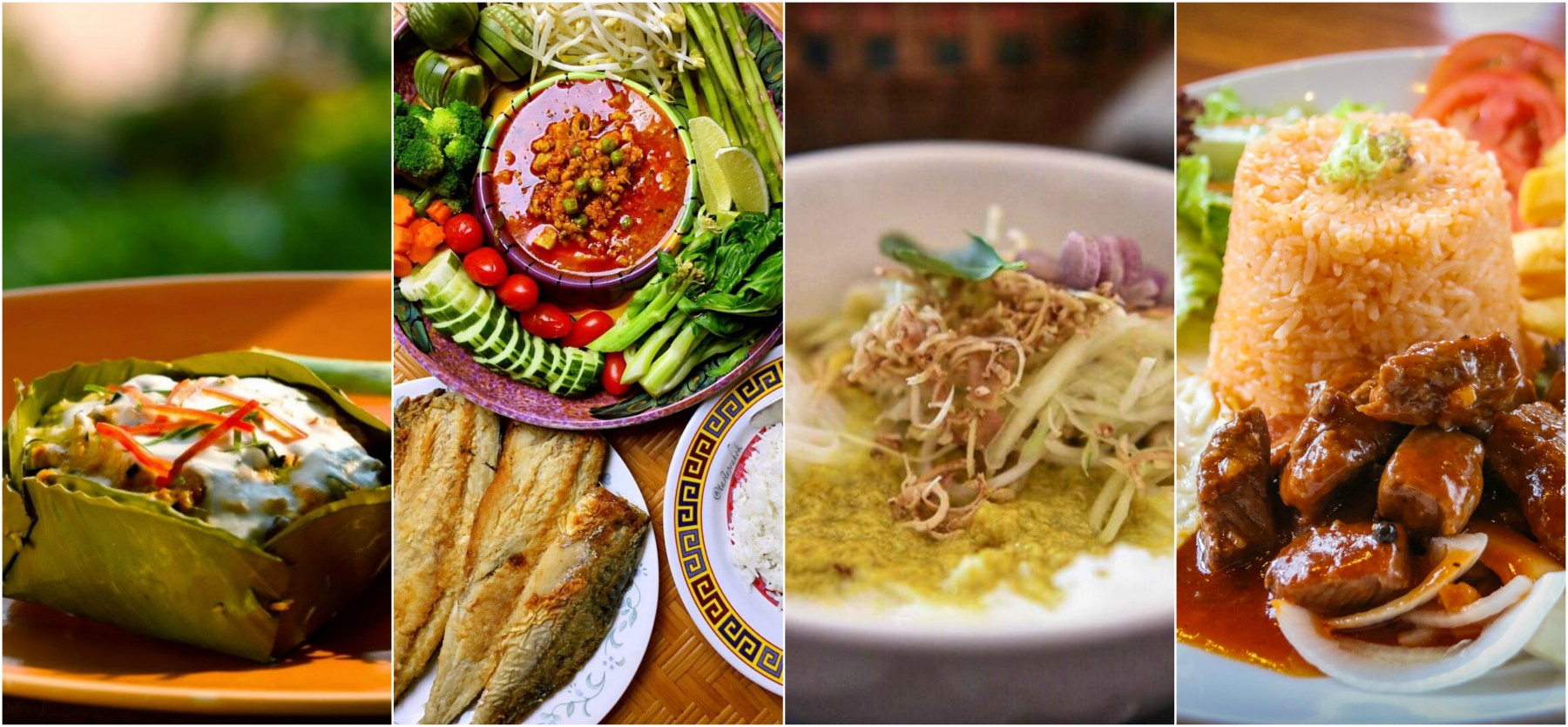 TOP BEST 4 RESTAURANTS IN THE CITY!
When considering where to eat in Phnom Penh, Sofitel has four of the finest Phnom Penh restaurants the city has to offer. Enjoy classic French cuisine at La Coupole, exquisite Japanese dining at Hachi, Sichuan delicacies are at the best Chinese restaurant in Phnom Penh, the elegant Fu Lu Zu, and authentic Italian cuisine is found at Do Forni.
SUSHI BUFFET AT HACHI
Looking for the best buffet in Phnom Penh? Hachi has it every Saturday with its famous sushi buffet. It's also the perfect Phnom Penh restaurant for corporate functions. Hachi's granite sushi bar exudes elegance while presenting the freshest sushi at arguably the best buffet in Phnom Penh. With the highest quality fish imported daily from Japan, this exquisite Phnom Penh restaurant is for true gastronomes.
SICHUAN FOOD AT FU LU ZU
Born in Sichuan Province, gifted chef Yang Guo Jian's vast menu at Fu Lu Zu makes this Chinese restaurant in Phnom Penh one of the best in the city. Fu Lu Zu is the Chinese restaurant in Phnom Penh exceling at authentic Sichuan cuisine.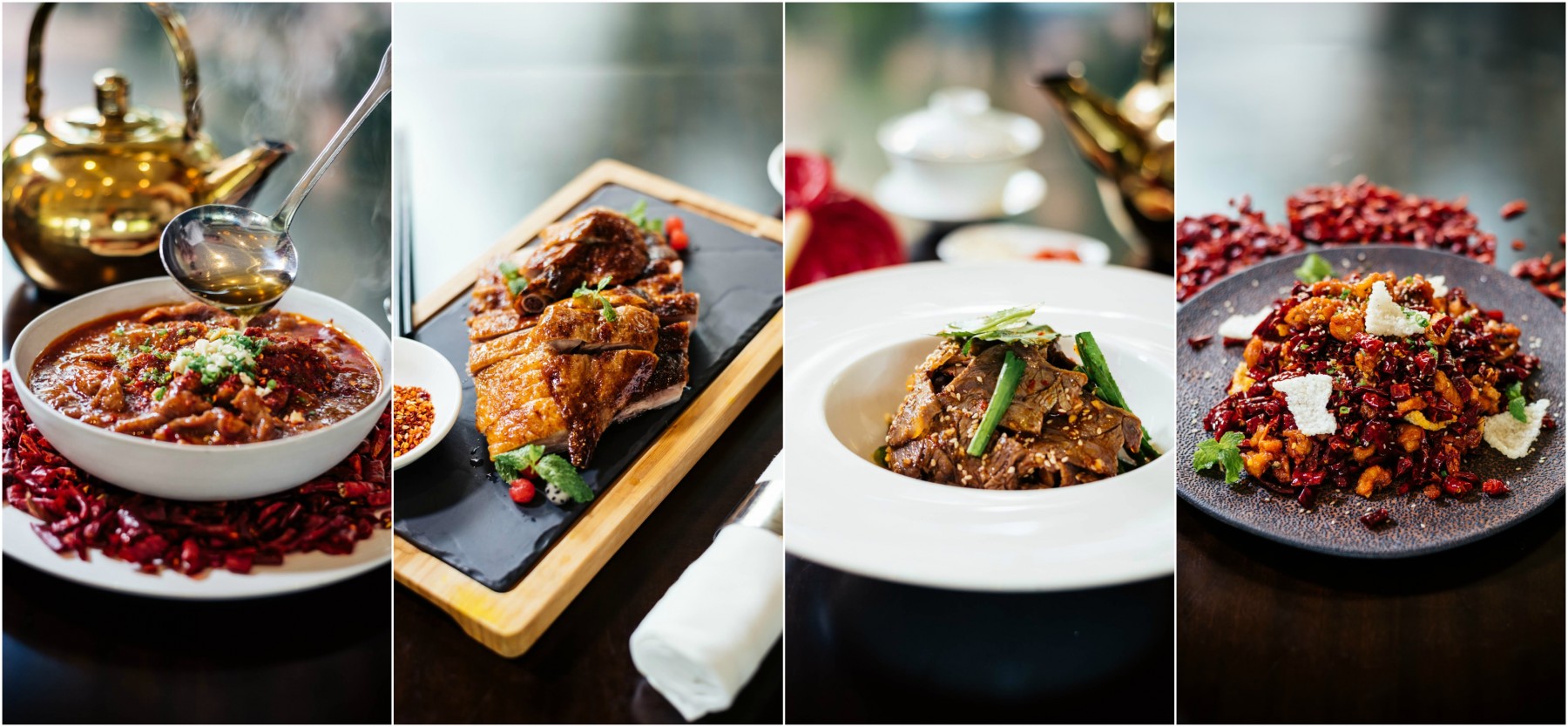 SEAFOOD PARADISE AT LA COUPOLE
The best buffet in Phnom Penh for seafood is our Seafood Paradise Buffet. A huge selection of French and Asian dishes provide mouthwatering accompaniments to the seafood for this best buffet in Phnom Penh.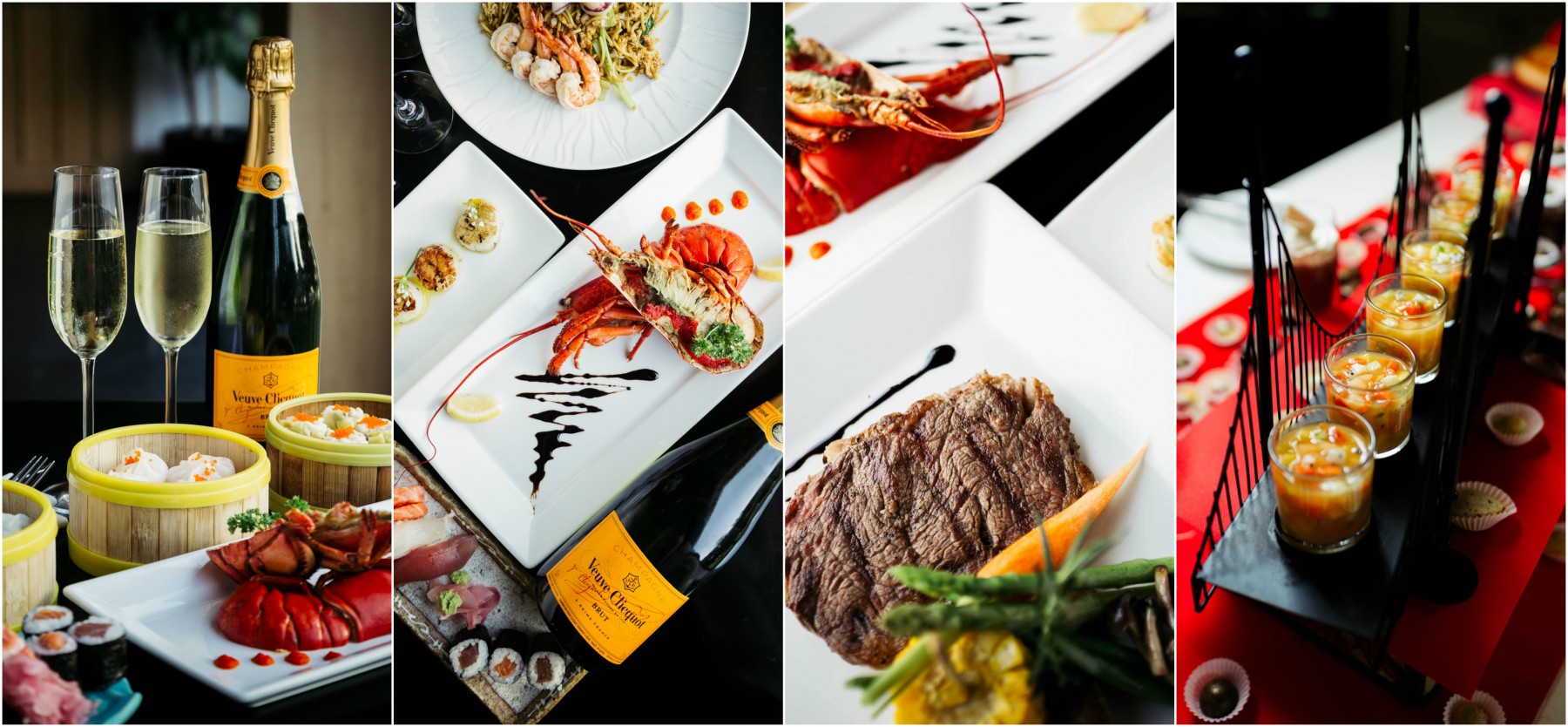 LOBSTER AT DO FORNI
Delicious and affordable lobster freshly caught from the sea to the shores of Do Forni Restaurant which prides itself in making food from the finest ingredient to give the best gourmet experience possible to our guests.
Although we're understandably proud of our four praiseworthy and fine dining establishments, when considering where to eat in Phnon Penh, you can't go wrong with these other classic Phnom Penh restaurants. Put these Cambodian restaurants on your Cambodian culinary crusade.

Malis, Norodom Boulevard
Khmer families rarely have to ask where it eat in Phnom Penh, they go to Malis, a favorite Phnom Penh restaurant among Khmer families. If you've eaten Cambodian food on the street in Phnom Penh, many of the dishes here will look familiar – but a lot more polished. Malis' 'living Cambodian cuisine' features Cambodian food made according to traditional recipes. Breakfasts include a complimentary croissant, bottomless Chinese tea and sweet corn dessert.
Romdeng, Street 74
If you want to know where to eat in Phnom Penh to sample Cambodian food that is more "adventurous" – like tarantulas, silk worms and crickets – in the comfort and safety of a posh Phnom Penh restaurant, Romdeng is the perfect place. This Cambodian restaurant is a training restaurant, so profits go to a good cause.
IN CONCLUSION
Authentic Khmer cuisine is rapidly gaining popularity and praise from famous top chefs. This culinary journey, offered by Inspiring Travel Co., is typical and includes Phnom Penh restaurants, a cooking class with one of Cambodia's leading chefs, and explorations into local markets and cultural experiences.
Upon arrival at Phnom Penh you are greeted by your guide. The afternoon brings a walking and car tour that takes you on a discovery of Cambodian architecture, from the colonial era to the 1960s. This tour is ideal for foodies, in the evening a scrumptious dinner at Malis Restaurant offers authentic Khmer cuisine. The next morning explores local markets to learn about Khmer cuisine. The walking tour lasts 2 hours then continues to a local restaurant to use many of the ingredients. The afternoon takes in Phnom Penh must-see spots, finishing with an evening meal at the celebrated Cambodian restaurant, The Foreign Correspondents' Club, located on the riverside.
Deciding where to eat in Phnom Penh is never difficult at Sofitel Phnom Penh Phokeethra. The only challenge is which of our fine Phnom Penh restaurants to choose from. From Cambodian food to international delicacies, the most elegant Chinese restaurant in Phnom Penh to the best buffet in Phnom Penh, you won't go hungry at Sofitel Phnom Penh Phokeethra. And if you're wondering where to eat in Phnom Penh beyond our luxurious grounds, well, the world is your oyster.